Pepper Panic Saga is one of the games made by King.com. It was released on Facebook in November 2013 and it contains 460 levels and 31 episodes. This game released the last episode, Loch Macrae on 29 October 2014 and will not release any more levels or episodes. There are still 460 levels in June 2021.
This game has mechanics similar to Candy Crush Saga, because you make 3-in-a-row matches and 4 and 5 in a row matches have additional effects. But unlike in other match-3 games you will have one remaining piece with a higher value. With the next matches you increase this value further until 5. Then it will explode. Each explosion will also have an increasing effect on other pieces of the same color. Many explosions will create a Pepper Panic.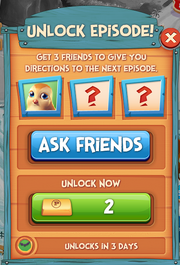 You are together with other players on a road leading from level to level. Unlike in other King games you have a truck to move forward.
Trivia
[
]
In Candy Crush Soda Saga, there used to be a level type which has similar mechanism in this game, Fizz level. However, this level type has been removed for now.
Gallery (How to play)
[
]